Profitable Horse Betting strategies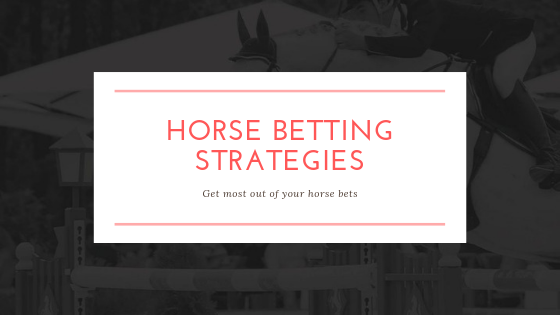 With a basic understanding of how to bet on horses, we can take a look at various horse betting strategies.
Dutching / Cover Bet

If you fancy more than one horse in a race, dutching can offer a way to bet differing amounts on each horse and win the same amount of profit, irrespective of which of your horses wins.
A cover bet is whereby you bet on your main fancy before betting a smaller amount on your main danger in the race, aiming to roughly break even if the danger wins or taking a nice profit if your stronger selection wins.
Some punters will dutch three or four horses in a race, especially in large field handicaps where you might spread your stake across a few long-odds runners. Should none of your selections win, all stakes are lost. Though dutching can certainly offer a greater chance of getting a winner, there are no horse betting strategies that guarantee a profit.
Multiple / Accumulator Bets
Multiples offer a good way to try winning a large amount of money from a low outlay. They provide a fun, cheaper way to have a horse to cheer on in several races
Simple multiples include doubles and trebles whilst those more ambitious might play Lucky 15/31/63's or a Yankee (6 doubles, 4 trebles & 1 fourfold). Many punters place each-way multiples. This is especially advisable in races with 8+ runners. This means at least 3 places pay for the purpose of each-way betting. Manage to pick a few placed horses and your place treble might pay a handsome sum without the need to find winners.
Horse Betting Strategies – Finding Winners
Trainer / Jockey
If you're willing to look closer at trainer & jockey statistics you can often find angles for potential bets. Studying which racecourses a trainer does well at throughout a certain part of the season can prove fruitful. Other approaches could include looking at specific race types in which a trainer performs well (eg. Staying Handicap Chases in the autumn) or how trainers and jockeys perform when combining.
Some punters will follow certain jockeys and base their bets around the favoured rides.
Frankie Dettori famously rode 7 winners through-the-card at Ascot in September 1996.
The cumulative odds of the 7 winners was over 25000-to-1. It was reported Frankie cost the bookmakers £30 million.
Handicapping Strategy
All horses have their ability assessed by the domestic horse racing authority. Each horse is designated an official rating by the official handicapper. This is often referred to as a horse's handicap mark. Horses can be entered in various levels of handicap races. Official Ratings generally range from 45 for a low ability flat horse, through to 120+ for a superstar. Depending on how good or bad a horse performs, their official rating can rise and fall accordingly.
Of all horse betting strategies compiling your own handicap ratings is one of the most time consuming. It involves assessing results of historical races, often analysing large datasets.  Combined with a method of race-watching, you will ultimately have a list of horses you believe are well-handicapped, in that you rate them higher than the official handicapper. This can provide suggested bets should you see a well-handicapped horse in a suitable handicap race.
System Betting
By analysing historical datasets, you can develop horse racing betting systems. By making a system, you will be able to quickly identify future betting prospects. A horse racing system is a means of betting that reflects years of data, concerning multiple angles such as Trainers, Jockeys, Horses, Sires, Ground, Class, Courses and much more. Such combined angles have historically proven to be profitable over the years.
Big Race Trends
Similar to system betting, an approach often employed when analysing big races is to look through trends. Assessing previous winners of the race and profiling possible winners based on such criteria as age, career wins and position in the betting can be quick way to narrow down your betting selections. Many punters, having used trends to narrow the field, will then take a closer look at form and any well-handicapped horses they may have identified.
Value Bets
The odds of a horse represent the implied chance it has of winning a race. For example, a 2/1 (3.0 in decimal odds) horse has a 33.33% chance of winning. This can be calculated by dividing 100/decimal odds. Converting Fractional odds to decimal odds can be done by dividing the numerator by the denominator and adding one. Eg. 100/30 =3.33+1 = 4.33 decimal odds.
When analysing a race you may assign a % winning chance to each horse. This % can be converted to your own odds. If bookmakers are offering higher odds you could consider this to be a value bet. Simply put, if you believe a horse should be 3/1 and the bookmaker offers 4/1, this can be described as value. Conversely, if you think a horse should be 10/1 and a bookmaker offers 5/1, this would be a bad value bet.
Bankroll and Staking
Bankroll Management
Enjoying betting on horses requires good bankroll management. You should set yourself a betting budget, being sure to only bet what you can afford to lose. Spread this amount around your chosen bets keeping a record on how much you have staked. Depending on the confidence behind your selection, you may choose to bet more whilst perhaps betting less on your lower confidence selections. A very simple consideration is the odds of your selections. These represent the implied chance your horse has of winning the race. The bigger the odds, the lower the stake that is required to win a high amount.
Bankrolls / Betting Banks are often referred to in 'points' with bet stakes either being a number of points or a % of your bank.
Good bankroll management is one of the most important disciplines to have when learning horse betting strategies. Protecting your bank and staying in control will benefit you more than any ability to find winners. Everyone will encounter losing runs so ensure you stake appropriately. The larger the odds you bet on average, the larger your bank should be.
Recreationally, a punter might set aside a small bankroll for a day of betting, treating it as fun whilst ensuring you spread your investments and play responsibly.
Staking Plans
The most common staking plan is a levels stakes plan. This plan constitutes betting the same amount on every horse you bet. Level stakes betting affords quicker, easier bet placement and easier record keeping. A selection system/method that doesn't produce a profit on a level stake plan is very unlikely to produce a profit under any staking plan.
Another common staking plan is staking to win the same amount. This means you will adjust your stakes dependent on the odds of the horse you're betting. The major benefit of such a plan is you balance the variance in betting long odds selections. Eg where you might bet 10 points on a 2/1 chance, you would stake 1 point on a 20/1 chance.
Similar to a level stakes plan, many punters will use a % of bank staking plan known as proportional staking. This means betting say 2% of your bank, adjusting your stakes depending on changes in your bankroll.
This plan comes with built-in protection, in that should you encounter a long losing run, your stakes will gradually decrease. Conversely, as and when you start making profits, you will increase stakes slightly, ultimately looking to improve the rate of your bank growth.
Whilst there are many other staking plans you can employ, it is advisable to find a system or method of profitable betting strategies before then assessing more advanced staking plans.
Some staking plans (eg Martingale & Fibonnaci) advise increasing stakes with each losing bet. This can be very dangerous, on the whole you should never chase your losses