Al Boum Photo Lands First Gold Cup for Mullins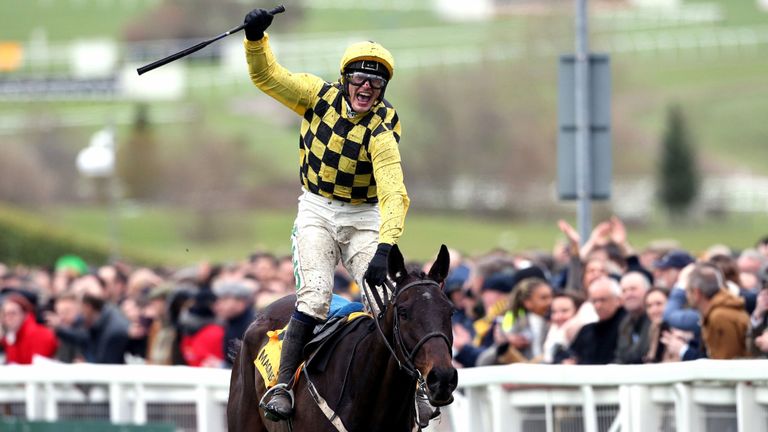 Willie Mullins won his first Cheltenham Gold Cup at the 2019 festival after waiting a very long time. The horse to land him the success was Al Boum Photo, who travelled nicely through the race and when others struggled to get up the Cheltenham hill, he was the one storming up it and stretching clear.
The horse and his jockey Paul Townend were at the centre of huge controversy last year when they ran out at the final fence in Ireland. Townend claimed that he heard someone telling him to bypass the fence, and swerved to go round it, and was unable to come back by the time he realised. He has been riding brilliantly all season, and this victory will mean even more to him based on what happened on this horse in the past.
Of the other horses for Willie Mullins, it was Bellshill that was expected to throw down the biggest challenge, but Ruby Walsh pulled him up. He made a couple of jumping mistakes and could never get going after those, there was no rhythm with him, but despite that I am sure his master trainer will get him back firing on all cylinders shortly.
Anibale Fly was second in the race and he ran very well, staying on late when others were feeling the pace. It would be no surprise to see him go to the Grand National from here, and he would have a good chance of running well in the race. The Gold Cup is a very tough test for any horse, but for Anibale Fly, it is probably not quite enough for him.
Presenting Percy looked as though he felt the pinch of only running once this season, and that is no surprise. The horse has not had any kind of preparation this year, and the trainer is to blame for that and why he ran poorly. There is a chance that he is just not good enough, but at least with proper preparation we would have been able to say that for certain, with what has happened this season we can't be certain about that.
Native River went off slower than usual and needed pushing to get into the race. Richard Johnson remarked afterwards that the horse didn't quite feel his usual self, and that he struggled to get him into a rhythm and going well like he did last year. The second last year, Might Bite, was up there with the pace but went out like a light turning for home. He faded in the fashion of a horse who is feeling something, rather than one that isn't good enough. He poses a huge question to Nicky Henderson now, and it will be interesting to see if anything comes to light about him, or what they are going to plan to do with him next season.
Clan Des Obeaux looked as though he didn't quite get home, and while he may be the best three miler we have, the Gold Cup is ran over 3m2f, and that seemed to find him out for me.
In what was a great finish to the festival, it was Willie Mullins that came out on top with Al Boum Photo. He thoroughly deserves this success and while it may have been a surprise to see him win to some people, this horse has plenty of decent form in the book and ultimately he was the best horse on the day.
It is expected that we will learn more about targets for next season over the summer, and the two I am looking at with interest are Might Bite and Clan Des Obeaux.