Golden Apollo and Saluti Two Well Handicapped Horses to Watch at Thirsk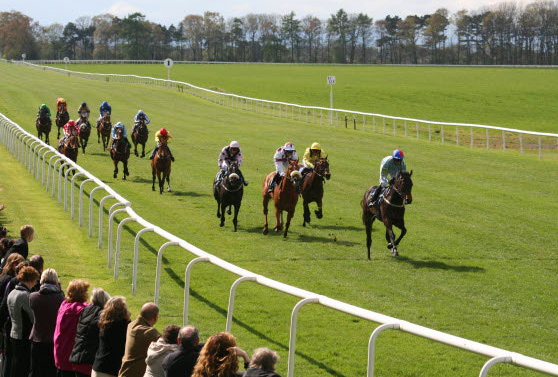 We have two very well handicapped horses on show at Thirsk with Golden Apollo going to the North Yorkshire venue to contest the 6f sprint at 3:40pm, followed by Saluti contesting the 7f race at 4:15pm. Both horses are now five year old, but that is not too old for a sprinter, and there should certainly be more races in them. Something that makes me really believe that is the handicap marks they have both slipped down to. Even if you compare these horses to recent marks they have been on, there is no doubt these two are very well handicapped and if they can discover their old form, they should win their races today with ease.
Can Golden Apollo Finally Land?
Let's look at Golden Apollo first, who runs here off a mark of 88. This allows him a rare opportunity to drop down into a 0-95 class three handicap. So far this season he hasn't won, but every one of his races apart from his trip to Redcar last time out has been a class 2 handicap against far superior horses. This horse not only gets a chance because he is carrying less weight, but the drop in his mark gives him the chance to run against a lower quality rival, something he gets here.
There is a big difference between a 20 runner class 2 handicap at York and a class 3 handicap at Thirsk, even though they are just one class apart. The former is where this horse has been running for most of the season, with four trips to York so far, while the latter is probably the type of race he needs if he is to get his head back in front at some point this season.
As for his actual handicap mark, all of last season and all of this so far except his last run, he has been rated in the 90s. He started this season off 97, and ran two great races at York off 92 and 91, finishing 5th and 3rd in those races.
If he had run in either of those carrying the weight of a horse that was rated 88 then he would surely have gone very close to winning. He gets to do that today, but on top of that he also gets to run against a lower quality horse. This is still a good race, don't get me wrong,  and some of the horses in here are tough and respected animals up in the north, but when he was turning up at York for those big field races, he was going up against the best of the best, something he doesn't have to do anymore.
I don't think this horse is quite as good as he once was, and that is the story you see when you look at his handicap mark. However, to keep running so well and finishing in behind good horses tells you that there is still plenty of ability there. He has had his sights lowered today, he goes up against a smaller field and rivals that are mainly inferior to him in terms of ability. These two things together give him the chance to strike, it may or may not be on Friday at Thirsk, but at some point this season I think we will see this horse finally win again.
Can Saluti Win for the First Time Since Last Summer?
You have to go back to last June to find the last win for Saluti. He has ran in 13 races since that victory, with a varying degree of success in them but while he has ran well in a few, he hasn't got his head back in front. Just like Golden Apollo, that has seen him tumble down the weights and although he has been given a small rise here for an impressive run last time out at Pontefract, he still remains very well treated when you look back through his form.
He runs today off a handicap mark of 78, having a mark in the 70s for only the fourth time in the last two seasons. He's ran off 78 and 76 in his two latest runs, and ran with credit on both occasions. Those were signs he is coming back to life, it seems only a matter of time before he strikes and the step back up to seven furlongs here could be what gives him the prime opportunity he needs to get back in the winners enclosure.
Looking back over his form, he won twice last season off 79 and 83. Since those runs he has been mainly campaigned off marks in the 80s. Both wins last season, and his other runs after those were over seven furlongs, however this season he has been running over six furlongs mainly, and that is the distance he has ran over on his last three outings.
His latest run at Pontefract came off a very low mark of just 76, and he's up 2lb for that run, but it was very eye catching for a couple of different reasons. The first is the horse he finished behind, this was the Tim Easterby trained Springwood Drive. That horse won the second of back to back races on that day, and with just six starts in his career he could well be a horse on the up and improving. In a few months from now, that horse could be a rated a lot better than he currently is, and finishing behind him could turn out to be a very good run.
The second reason is that once again, Saluti showed that he needs seven furlongs. He finished a couple of lengths behind the winner but was closing towards the end of the race and another furlong would have allowed him to get much closer. Even though Pontefract is a stiff course, their six furlongs was not enough for him, moving to a flat track but going up to seven furlongs here seems exactly the move that needed to be made.
A combination of the promise shown at Pontefract, the step back up in trip and a look back to see he spent most of the last two seasons running off marks in the 80s all point to a big run from Saluti at Thirsk on Friday afternoon.